Our nursing professionals couple expertise with compassion and our clients range from infants to seniors. ANFC focuses on the needs of our clients and their families. We recognize that those homecare needs vary from client to client and from family to family so attention to detail is an absolute must.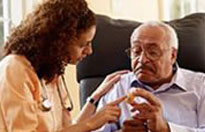 ANFC provides home health aides to assists with in-home medical care. Our homecare staff offers patients assistance with activities of daily living, managed care, and treatment of a variety of medical conditions. In addition, ANFC's homecare staff offers assistance with IV therapy, wound care, end of life care, and more. We believe in educating our clients about health promotion.
ANFC provides caring nurses, home health aides, and companions to assist with in-home non-medical care. Our home care staff provides assistance with independent living and maintaining a safe and functional environment. ANFC provides assistance with personal care and activities of daily living, such as bathing, dressing, feeding, etc. This service offering is appreciated by seniors, expecting mothers, mothers with newborns, toddlers, and grade school aged children, individuals with disabilities, and individuals interested in healthier living.
By coupling expertise with compassion, ANFC's homecare staffing team offers our clients a sense of independence and a better quality of life.
ANFC provides caring nursing professionals to hospitals, long-term and rehabilitation facilities, private practices, clinics, and other healthcare organizations. This service offering is appreciated by healthcare organizations looking to supplement their staffing needs through outsourcing. Our nursing professionals include Registered Nurses (RNs), Licensed Practical Nurses (LPNs), Licensed Vocational Nurses (LVNs), and Certified Nursing Assistants (CNAs) for temporary assignments, as well as temporary-to-permanent assignments.
ANFC provides assistance with identifying qualified nursing professionals for direct hire to individuals and healthcare facilities.
At ANFC, we build partnerships with our clients. Through these partnerships, we develop a better understanding of our clients' business needs. This is essential in identifying the best candidates, as it provides ANFC the information necessary to perform a customized search and match process.
To request our services or for general service inquiries, please contact us via email at servicerequests@myanfc.com or by phone at 301-732-7272.
Licensed in Washington, DC,
Maryland and Virginia